+++ The event will be available on-demand soon! +++
Sessions now available
on-demand

The online event was streamed live from Munich on
17 Nov 2021
1-6pm CET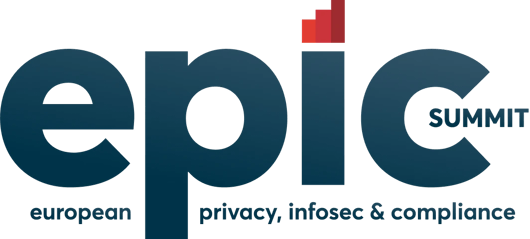 The EPIC Summit was a one-day remote event that took place on two virtual stages.

We brought together the European Privacy, InfoSec & Compliance (EPIC) community to share expertise on how organisations can build trust and achieve both growth and compliance in the digital age.
EPIC
EPIC
EXPERTISE
Find your way on the latest insights of the EU-legislation and UK-legislation on Data Economy that help you to become and stay compliant in an interconnected global economy.
EPIC
ECOSYSTEM
Grow your network of likeminded experts and practitioners and share best practices helping you to master the era of digitalisation in your organisation.
EPIC
EXPERIENCE
Discover the latest tech trends which will help you master the privacy paradox and support you to build the data business of tomorrow.
E P I C
p
PRIVACY
The future is private. Let's talk about the future of privacy, rising consumer awareness and how to mitigate risks and create value through trust and transparency.
i
INFOSEC
Outrun the competition with watertight information security processes. Learn how to guard your assets and laying the foundation for trustful business relationships.
c
COMPLIANCE
Discover sustainable ways to manage data compliance and security for tools, processes and people while adapting to new regulations.
Panels & speaker sessions in six focus areas live on two virtual stages:

Regulations
EU Whistleblowing Directive: Getting ready for 17-Dec-2021
GDPR right vs. GDPR light? The UK Data Privacy proposals
Data Governance Act: sharing data via intermediaries
GROWTH
Effective and compliant marketing & outbound activities
Personal Information Management Systems (PIMS)
Efficient global rollout of corporate compliance efforts

TRUST
The Privacy Paradox -
trust vs. data
Dark patterns in apps and websites
The future of data ethics

SECURITY
Mitigation of phishing risks
Information security in a hybrid work environment
TISAX®, SOC, ISO Certifications - how to avoid the pitfalls

RISK
Data Protection Impact Assessment (DPIA) revisited
UK Data Framework
Fine regime and litigation landscape going forward

TECH
Privacy by Design - success stories from practitioners
Marketing tools (HubSpot, Salesforce etc.) configuration
Vaccine passports & Blockchain innovation
12+

hours of content to choose from

20+

top speakers & panel sessions

200+

international
attendants
TISAX® is a registered trademark of the ENX Association. DataGuard is not affiliated with the ENX Association. We provide consultation and support for the assessment on TISAX® only. The ENX Association does not take any responsibility for any content shown on DataGuard's website.
All data provided is for information only, based on internal estimates. This information is not indicative of KPIs, and is not given with any warranties or guarantees, expressly stated or implied in relation to accuracy and reliability.